Discover Dental Care Employer Benefit Plan
Overview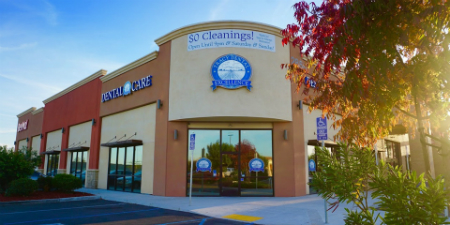 The Discover Dental Care (DDC) Plan's core focus is to facilitate the delivery of affordable, excellent and predictable patient care outcomes in Oral Health for its participants. Discover Dental Care is operating as an Independent Practice Association which has been created by a dentist to provide a structure to enable the majority of dollars to go to the Dental Provider member practices. The goal is to provide affordable, excellent dental care in a state of the art facility, and incentivize patients to achieve and maintain high levels of oral health.
In contrast, dental insurance companies have a clear primary mandate to generate increasing profits and partner with brokers and third party administrators to control an established structure to direct a predetermined amount of premium dollars for patient care. The percentage of the premium dollars available for treatment has a wide variance and can range from 8 to 20%. The available funds to provide treatment directly to the provider, are generally not sufficient to maintain quality care. Contracted fees can be as much as 60% lower than usual fees.
DDC Benefit Plan Highlights

Cost
$59/mon per person $115/mon per spouse and insured $170/mon per family*. Option to Prepay annual fee for the entire employee base a 10% discount and no fee increase for year two if the option to prepay is chosen.
100% coverage for routine preventive and diagnostic services**
80% coverage for basic restorative (fillings), Surgical treatment (simple extractions), laser treatment, miscellaneous adjunctive services.
50% coverage for major restorative (crown, bridge, denture), oral surgery, endodontic (root canal) periodontic (gum treatment) services.
50% coverage for cosmetic services (teeth whitening, porcelain veneers, and cosmetic bonding).
$50 annual deductible per person (max $100 per family) applies to all services except preventive.
$2,500 annual maximum for all services.
Accumulated Carryover of unused $ limit for 2 consecutive yrs, to capture a maximum of $5,000 in the 2nd yr and complimentary In-office Sinsational Smile Whitening, provided patient completes a minimum one preventive visit and completes any required deep cleaning within the first year to maintain healthy gums.
*Dependent coverage to age 21 with an exception to age 25 if in school.
**Percentages are applied to the maximum allowable UCR — Usual, Customary, Reasonable fees for the region, as determined by Tracy Dental Excellence
Compare to Insurance
Where do the fees go?

Employer Advantages
Superior, predictable coverage with reduced costs
Significant fee reductions of up to 20% from a standard benefit plan and the option for 10% annual prepaid discount.
Cost: $59 per month per employee, Employee and Spouse $115 per month
Employee, Spouse and one or more dependents $170 per month
3 yr Fixed annual fee
Cost control through the use of co-payments and annual maximums
Fewer employee complaints
Simple to administer and easy to understand
Direct contact with the Dental Provider to ensure value received and satisfaction for patient experience with an option for an Exam, X-rays, cleaning at no cost
Option for Employees to opt-out of plan within simple and nonrestrictive guidelines
** Option customize the existing plan with improved benefits, lower fees of up to reflective of benefits chosen and the UCR fee utilized
Patient Advantages
Easy to understand
High-quality care with state-of-the-art technology and facility appointments 7 days of the week. Emergency and walk-in, same-day emergency treatment
No estimate requirements
No waiting period for treatment options chosen
Typically all services are covered other than implants and orthodontics.
Ability to experience a complimentary initial exam, X-rays, photos and cleaning
Preferred status as a top tier patient of the practice
Affordable financing options for co-pay fee
Future utilization of existing medical insurance for eligible dental procedures
Specialist Referral treatment coverage, coordinated through the main provider to ensure quality of care
Dependent coverage to age 21 with an exception to age 25 if in school.
Dentist Advantages
Treatment decisions are made between the dentist and patient
Dentist-patient relationship is enhanced
No submission of x-rays, or pre-determinations
No confusing exclusions such as alternative benefit provisions, pre-existing conditions, downcoding, multiple treatment reimbursement reductions
No waiting periods
Cost of practice operation is reduced, enabling more investment in high-quality care
*The Discover Dental Care benefits program is a membership plan only available through Discover Dental Care, LLC exclusively for our paid member patients, and services must be provided by our member practices. The Discover Dental Care Benefit Plan is not an insurance benefit plan.